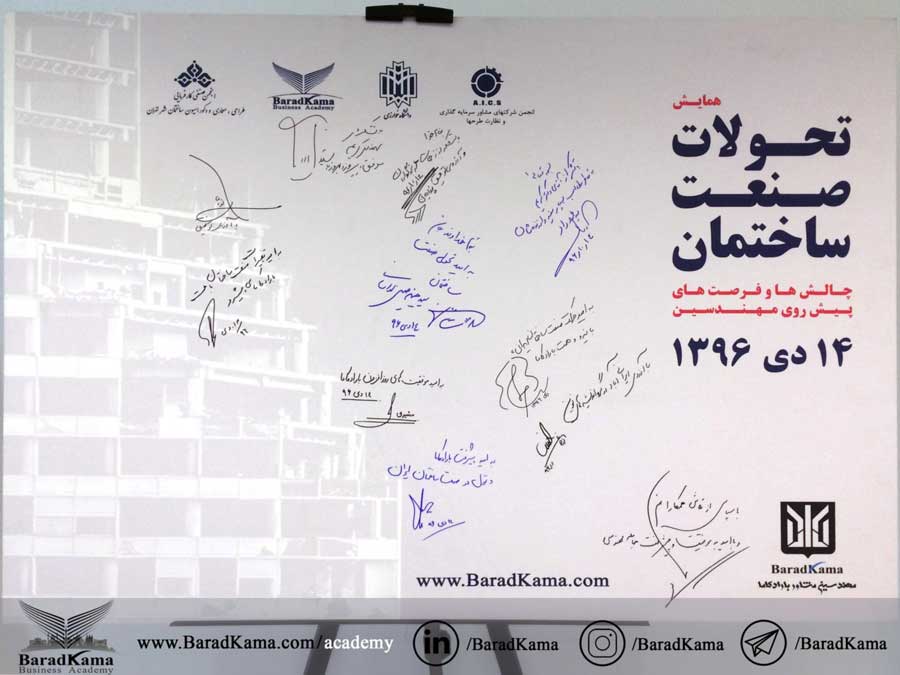 Conference on the developments of the building industry
"Building Industry Conferences"
Challenges and opportunities ahead
On the evening of 14th of May 2012, Baradcoma Consulting Engineers held a conference at the invitation of Kharazmi University in the presence of several senior managers and analysts from different fields of construction industry.
At the beginning of the conference, Dr Abdolreza Nouri, the head of Kharazmi University's graduate school and director of the Center for Free Education at the University of Honor, told the generations of different universities and stated that Kharazmi University, when entering the second century from its life to a generation university Fourth, and has begun a partnership with Baradcoma Consulting Engineers in the area of ​​building industry management, following this policy.
The second speaker of Dr. Behrooz Maleki, a senior economic analyst on the housing market, has been studying and analyzing the economic conditions of the housing market in the current and future two years.
In the following, Mr. Latif Pandarian, an executive consultant of the municipality, expressed the views of the authorities over the coming years in the area of ​​construction.
The fourth speaker, Mr. Alireza Karim, Managing Director of Baradcoma Consulting Engineers, spoke about the business conditions of the construction industry as well as the status of civil engineers and architects as one of the pillars of the industry. The reasons for the current recession and the prospects of this industry were expressed in terms of management and business.
At the end, Mr. Mohammad Ibn al-Sharia, a member of the board of directors of the Baradcoa Consulting Engineers, spoke on the history of MBA courses in the world and in Iran, and in the end introduced MBA and DBA courses in the building industry of the Baradkama Academy, jointly with the Kharazmi University and the Guildhall Architecture is organized.
The results of the conference, which was held with the presence of nearly 200 civil engineers and architects, were highly evaluated and the overwhelming majority of the audience expressed their full satisfaction with the content presented.
در زیر تصاویر برگزیده این همایش تقدیم حضور می گردد: